I've quickly realized since beginning this blog that most of what goes into it isn't the writing, but rather the research behind the writing that takes all the time.  That being said, I've discovered many wonderful and interesting voices out there, all having their own interesting angles and perceptions about arts culture, where it is, and where it is going.
Most recently I came across Alex Ross, music critic of the The New Yorker.  After a general perusing of his site, I can now understand why fellow arts blogger and opera enthusiast, Olivia Giovetti, candidly lists Mr. Ross on her blog under a list of links titled "Obsessions".  His knowledge of music history is simply uncanny.  He is a wealth of knowledge and musical insight that someone like me can only hope to have one day…. I digress.
A post on his blog that caught my attention dealt with the history of applauding at classical concerts.  Namely, the act of applauding during performances and in between movements.  This is an action I have wavered on both for and against, but have yet to settle upon a solid position either way.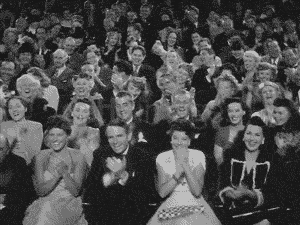 As history attests, the currently acceptable etiquette of only clapping at the very end of a full concert is one that is historically quite a new custom.  One of the more interesting theories as to why we moved from clapping to not clapping posits that the change symbolizes a shift of classical music moving from a "middlebrow" "music-for-the-masses" mentality, to a more "highbrow" or "elite" mentality.  Apparently clapping is uncouth.  For a full and well detailed synopsis of the subject matter I suggest you read the post for yourself.
Personally, I don't find clapping necessarily distracting, but more so the constant little unnecessary noises of crumpling paper or the always dreaded crinkling of cellophane candy wrappers.  Seriously, does it really take 45 seconds to unwrap a cough drop?  However, the act of clapping in principal is not offensive to me.  I think it is something that shouldn't necessarily fit into a format.  You come on stage: we clap.  You play your piece (all however many movements, and only when we are absolutely sure you are finished): we clap.
This kind of regimented ritual only adds to the stuffiness and elite qualities that are too often attributed to classical music.  I think if the momentum, energy and emotion of a piece compel you to clap, then you should clap.  Often times I feel clapping is an almost "forced" action.  It is as if the audience feels they MUST clap, and so does so with feigned enthusiasm.
Opera viewing etiquette is somewhat different.  As opera is a theatrical expression of emotions, story and music, it is often the case that clapping occurs throughout the performance and at different points depending on the quality of the performance.  This would seem a more realistic expression of appreciation and enjoyment.  I recently viewed a Metropolitan Opera production of Donizetti's "La Fille du Regiment" in which both Natalie Dessay and Juan Diego Florez both received applause throughout their
performances.  This wasn't distracting for me as a viewer.  Granted, I wasn't actually there, but I felt the applauding only added to theatrical experience.  Almost like studies that show how viewers found comedic sitcoms more funny if they heard others laughing at the jokes, thus the inclusion of laugh tracks.
Alex Ross ends his post with an insightful quote from the author Christopher Small's book Musicking. Small says:
The silence that will greet tonight's performance while it is in progress suggests a different attitude [from the audience behavior of past eras]. Those who wish perfect communion with the composer through the performance can have it, uninterrupted by any noise that may signal the presence of other spectators. On the other hand, while our attention is without doubt active, it is detached; we no longer feel ourselves to be part of the performance but listen to it as it were from the outside. Any noise we might make would not be an element of the performance, as were the sighs and murmurs of the Parisian audience, but an interruption or distraction. I have even known the minute clinks and jingles of a female listener's Charm bracelet to put its wearer's neighbor in a rage. Who we are, then, is spectators rather than participants, and our silence during the performance is a sign of this condition, that we have nothing to contribute but our attention to the spectacle that has been arranged for us. We might go further and say that we are spectators at a spectacle that is not ours, that our relationship with those who are responsible for the production of the spectacle—the composer, the orchestra, the conductor, and those who make the arrangements for tonight's concert—is that of consumers to producers, and our only power is that of consumers in general, to buy or not to buy.
Clearly, am I just as guilty of Small's criticism as noted earlier in this post where I complain about the "crinkling of cellophane wrappers."
This sentiment expressed by Small is both uplifting and depressing for me.  Uplifting because it pointedly expresses a sentiment I have held for some time, but have not found the eloquence to express.  Depressing, because it exposes a cultural mentality towards orchestral music that is counterproductive and anti-progressive.  It shows that we culturally treat this kind of art as holier than Thou entertainment, not to be disturbed or disrupted without following the proper protocols.  This is an attitude that  I realize, as well as many of my fellow arts bloggers do, is part of our cultural heritage in desperate need of critical discourse and new valuation.